January 24, 2023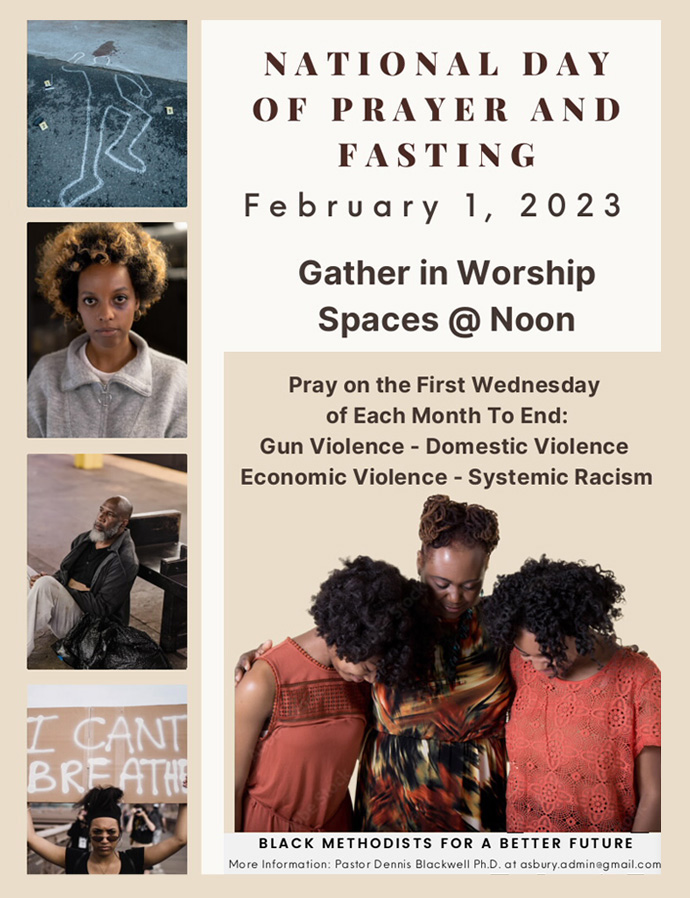 The Rev. Dennis Blackwell is weary of the news reports of people being shot, many times Black people.
"Every morning, I turn the television on," said Blackwell, a United Methodist pastor at Asbury Community Church in Woodlynne, New Jersey. "There are people who've been killed by stray bullets, young people on the way to school being shot down, people in a restaurant eating being shot.
"But no one in the faith community seems to be doing anything about it collectively."
Blackwell, a member of the United Methodist Judicial Council, said he recognizes that violence can be born out of poverty, unemployment and the lack of social resources.
"Systemic and systematic racism, white supremacy, are the major issues that produce this," he said. "That's a long-term fight."
In the short term, Blackwell and his group Black Methodists for a Better Future are hoping to get started on the first day of Black History Month, Feb. 1, by promoting a national day of prayer and fasting to ask God's help with the problems of gun, domestic and economic violence, and also systemic racism. He is asking people to gather in their worship spaces at noon in their respective time zones.
"It's needed, to highlight that gun violence is something that disproportionately impacts African American people," Blackwell said. "This is one way for the church to kind of ease back into the fight, and to start being the prophetic voice that we need to be to stem the tide of violence that is killing our people."
Black Methodists for a Better Future, a group of United Methodist pastors, formed just prior to the COVID-19 crisis, Blackwell said.
"We're not a 'caucus,'" he said. "We gathered to be a conduit to disseminate information to congregations and to pray, and we're in support of any other caucus or initiative that the denomination has, because we're Methodists and we pay apportionments."
Blackwell said he also is reaching out to African Methodist Episcopal and Christian Methodist Episcopal congregations, along with Baptists, to encourage them to participate. He also suggests continuing the practice on the first of every month.
In 2020, Black Americans were more than four times more likely to die from gun violence than any other racial group, and 12 times more likely than white Americans, Reuters reported, based on data from the U.S. Centers for Disease Control and Prevention.
For young Black men in the U.S., being killed by police is the sixth leading cause of death, trailing accidental death, suicide, other homicides, heart disease and cancer, according to a 2019 study released by the Institute for Social Research at the University of Michigan.
"About 100 in 100,000 Black men and boys will be killed by police during their lives, while 39 white men and boys per 100,000 are killed by police," reads the study, by the University of Michigan, Rutgers University and Washington University. "This means Black men are about 2.5 times more likely to be killed by police than white men."
Killings of Black citizens by police have become cause célèbres in the U.S. in recent years. They include:
Eric Garner, who died in New York City in 2014 while pinned to the ground by police on suspicion of illegally selling cigarettes.
Tamir Rice, 12, shot dead in Cleveland in 2014 when a toy gun he was playing with was mistaken for a real firearm.
Breonna Taylor, a Louisville, Kentucky, woman shot to death in her home in 2020 during a raid by police conducted because of her association with a former boyfriend.
George Floyd, who died in Minneapolis in 2020 when a policeman held his neck down with his knee for more than nine minutes.
Blackwell hopes to underscore the urgency of the issue on Feb. 1.
"Our hope is that once people get to praying, and we believe that we hear from God, that we will move back into providing some kinds of solutions to stem the tide of this," he said.