website maker
May 26, 2023
Peers nominate recipients for being agents of transformation and healing in the world and for living their alma mater's mission and values.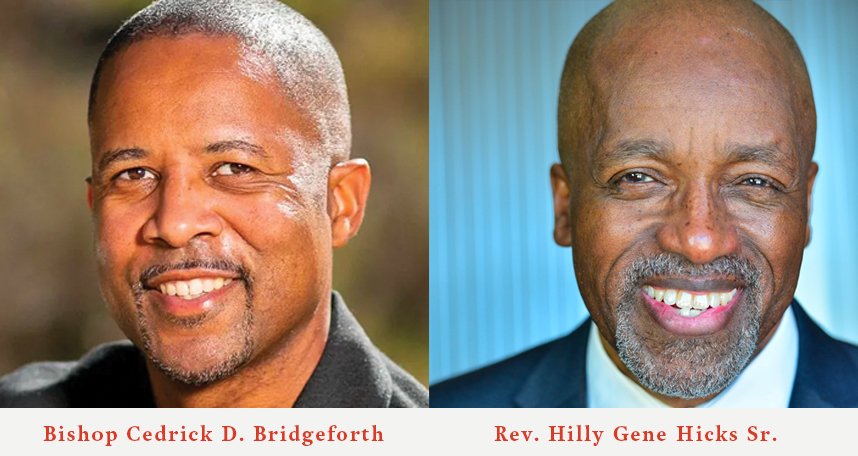 During the 66 Years on Route 66 celebration dinner, held at Claremont School of Theology on May 15, 2023, Bishop Cedrick D. Bridgeforth '00 and Rev. Hilly Gene Hicks Sr. '85 were both honored as CST Distinguished Alumni Award recipients.
The honors are bestowed upon extraordinary graduates perceived by their fellow alumni to be living CST mission and values by serving as agents of transformation and healing in the world and working to bring about peace between various communities, cultures and religious traditions.
Bishop Cedrick D. Bridgeforth '00
A pastor, author and coach, Bridgeforth was featured in the CST "For Such a Time as This" campaign. The first openly gay African American man to be elected a bishop in The United Methodist Church, he most recently directed communications for the California-Pacific Annual Conference. Bridgeforth is assigned to the Greater Northwest Episcopal Area.
Feeling a tug toward ministry as a child, Bridgeforth wasn't sure where God's call would lead. The opportunity to participate in a pilot program between Claremont School of Theology and the California-Pacific Conference proved eye-opening.
"The sense of purpose and fulfillment that came as I served those living in abandoned houses and assisted those struggling to find employment," he recalled, "was unlike anything I had ever experienced. The street people affirmed my call to ministry, and I knew it was my path."
After graduating from CST, he served as director of alumni and church relations.
"Apathy and cynicism are our greatest challenges," Bridgeforth said. "I will proclaim the good news of Jesus Christ and challenge those within my sphere of influence to do the same.
"These times call for humility that is resolute and confident in the truth of who God is and what is possible when we behave as those who believe that with God, all things are possible."
The Rev. Hilly Gene Hicks Sr. '85
Recently retired pastor of First United Methodist Church, Inglewood, California, Hicks served Gordon Memorial, Nashville, Tennessee; Pickett-Rucker, Lebanon, Tennessee; New Beginnings – North Campus, San Bernardino; Emmanuel, San Bernardino; and Crenshaw, Los Angeles. He was the owner/operator of Aha Pictures, Nashville, Tennessee and Production Team leader at United Methodist Communications from which he retired in 2007.
Hicks worked as a professional television and film actor in Hollywood for 16 years. Appearing in more than 300 productions, he is remembered for his role as Lewis in Alex Haley's "Roots" and his work in classic shows like "M*A*S*H," "Good Times" and "Hill Street Blues."
Hicks is well known throughout the United Methodist connection as a longtime video producer and the voice of many videos and training sessions for United Methodist Communications. He was instrumental in launching and serving as anchor for the first weekly TV national newsmagazine show "Catch the Spirit." His work led to a national television advertising campaign presentation of the church.
"In that role," he recalled, "I traveled all over the United States and around the world to tell viewers the stories of United Methodists in action."
Born in Los Angeles, Hicks studied English literature at Occidental College. He graduated in 1972 and married Arthur Bea Gooding in 1983.
CST's 2023 Commencement photos can be viewed here.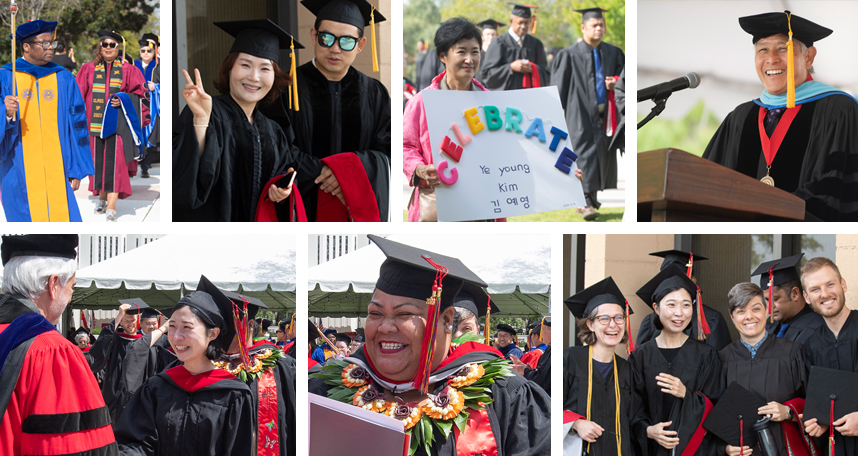 Claremont School of Theology is United Methodist in origin and affiliation and ecumenical and interreligious in spirit. CST is one of 13 United Methodist seminaries. Please consider giving to its future at CST.edu/give.