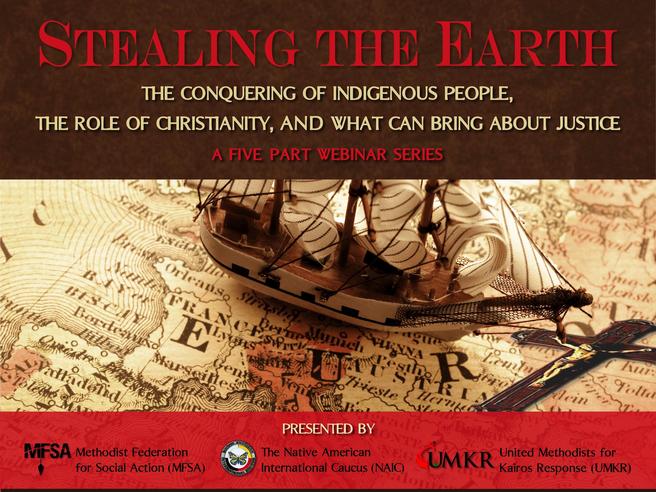 From Popes to Presidents, the "Doctrine of Discovery" has empowered global leaders to change the lives of indigenous people throughout history. The Doctrine is a theological and legal concept that has legitimized the seizure of indigenous people's lands by those from supposedly Christian nations. This five-part webinar series will explore the history and impact of the Doctrine, the legacy of conquest that Christians have inherited to this day and how we might seek to repair and reverse that legacy.
Presented by Methodist Federation for Social Action (MFSA), United Methodists for Kairos Response (UMKR), and the Native American International Caucus (NAIC), each session will be approximately 90 minutes long.
The Doctrine of Discovery, Resolution #3331 (The Book of Resolutions of the United Methodist Church, 2016):
"All levels of The United Methodist Church are called to condemn the Doctrine of Discovery as a legal document and basis for the seizing of native lands and abuses of human rights of indigenous peoples… The United Methodist Church will work toward eliminating the Doctrine of Discovery as a means to subjugate indigenous peoples of property and land."
The United Methodist Church has stated a strong position about the evils of the Doctrine of Discovery and calls on the entire church to condemn and eliminate it. But few of us know what it is!
The series began by providing an understanding of the doctrine and its history. See Part 1 here.
Further sessions will delve into the impact of the ownership of land, the power of narrative, white normativity, and the theological basis to respond, repair, and repent.
PART 2: "Whose Land?" The Doctrinal Legitimization of Theft of the People's Land
Wednesday, October 13, 2021 (10 AM PDT | 7 AM HST) ● Thursday, October 14, 2021 (3 AM ChST)
REGISTER HERE >>
PART 3: Pervasive and Self-Perpetuating: The Continuous Falsifying of Narratives
Wednesday, December 8, 2021 California & Hawaii ● Thursday, December 9, 2021 Guam & Saipan
PART 4: Centering and Othering: Elevating White Normativity, Suppressing Racial and Indigenous Identities
Wednesday, February 9, 2022 California & Hawaii ● Thursdays, February 10, 2022 Guam & Saipan
PART 5: Undoing the Doctrine: Developing a Theology of Repentance and Repair
Wednesday, April 13, 2022 California & Hawaii ● Thursday, April 14, 2022 Guam & Saipan
Join us to take a deep look at the scourge of colonialism which connects the struggles of indigenous peoples on every continent.