January 6, 2023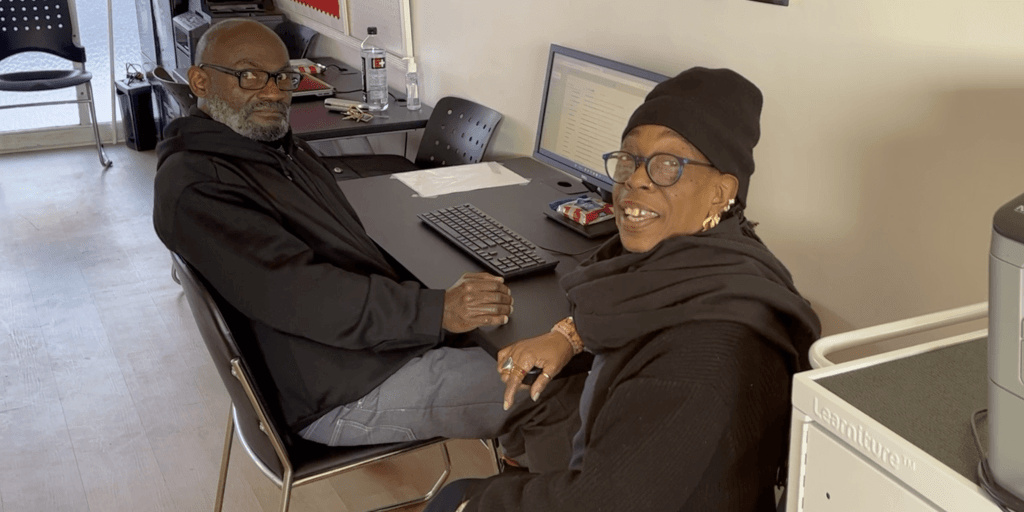 "This is the first time I have ever felt comfortable in front of a computer!" – Charles, a Saint Mark computer lab client
The South Los Angeles neighborhood that is home to Saint Mark United Methodist Church is populated by a mix of people, with a majority of Black, Latino and Asian American families. It is primarily a lower-income neighborhood, and some households do not have wi-fi connection or computers beyond phones and tablets. This made the recent COVID-19 school shut-downs particularly challenging for students in this community.
While schools would open again, and students would get back to in-person learning, the technological challenges remain the same for these families. Staff and volunteers at Saint Mark had been working on that challenge before the pandemic, but as COVID-19 shut down most gatherings, their plans were put on hold until 2022.
In 2021, Saint Mark UMC became part of an Annual Conference Community Development Program Cohort with five other churches in the South Los Angeles area. This new community development model pioneered by Global Ministries brings a cohort of churches and church leaders together to consider needs throughout their whole community and opens new possibilities with more partners.
With a Global Ministries' grant derived from Human Relations Day funding and with the support of the California-Pacific Conference, the West District and the South Los Angeles cohort, Saint Mark moved ahead with a new computer lab, celebrating its grand opening on March 5, 2022.
A Space for All Ages
The computer lab is part of a larger community center called Manna House. Saint Mark's pastor, the Rev. Gary Bernard Williams, prefers to describe it as a "neighborhood center" being developed by the church.
"Manna House also has a gym, where young people come to play basketball, open two days a week," Williams said. He referenced a study completed by the Los Angeles Unified School District that found only 35 of 700 schools offered music arts appreciation.
"We are developing a music center, and we are in the process now of finding a regular music teacher to offer instruction. We already have the instruments – keyboards, violins and drums."
Saint Mark has a gifted retired United Methodist Community Developer, Latanya Cunningham, who was part of Global Ministries' Black Community Developers Program in the 1990s. She now works full time on the church's community engagement projects and with the other churches in the cohort as well.
"We are very happy to be of service in having the computer lab open," Cunningham explained. "We have been very consistent, open 9 a.m.-5 p.m., three days a week. We've been able to hire a young adult program manager, Danyelle Benware, from our community. We also hired two high school sophomores as interns during the summer who served our lab."
Cunningham said the computer lab provides the church with opportunities to work on three of its ministry objectives: leadership development for young adults and youth; ministry with the poor; and health and wellness for those in the community. Benware often works with seniors and others coming to the computer lab to apply for health care benefits and find the services they need. Children from a nearby elementary school also come, as well as older youth.
Dreaming Big in South Los Angeles
The South Los Angeles Mission Area, which Saint Mark is part of, was established in 2010 to create partnership among area churches. Williams became the mission area chair in 2015.
The other churches in the South Los Angeles Community Development Cohort include Hamilton, Bowen, Wesley, Faith and St. John United Methodist churches. The cohort decided to develop a computer lab in each of the churches – Saint Mark is the first to complete the project. Faith United Methodist Church's lab is also near completion.
Each church had the opportunity to delegate a lay leader to attend virtual training offered by Global Ministries Multiethnic Ministries, led by Dr. Dana Lyles, the program's director. The training included cohort groups from across the U.S. Both Cunningham and Williams attended from Saint Mark UMC. Williams said he was inspired by what other churches in other communities were able to do and Cunningham found it refreshing.
In addition to the Global Ministries' grant, Saint Mark also received funding from its district, and staff and volunteers have coordinated fundraisers, including one that featured Black women entrepreneurs who were opening their own product lines. Fundraising plans are in the works and the church would like to offer formal training in the computer lab – and then on to wherever God's spirit leads them.
"Our church motto states: 'We are a church in the heart of the community with the community at heart.'" noted Williams. "Our mission is to provide social services and programs that empower children and adults in our community to help promote respect for one another, self-determination, and to lift each other up and just be community."