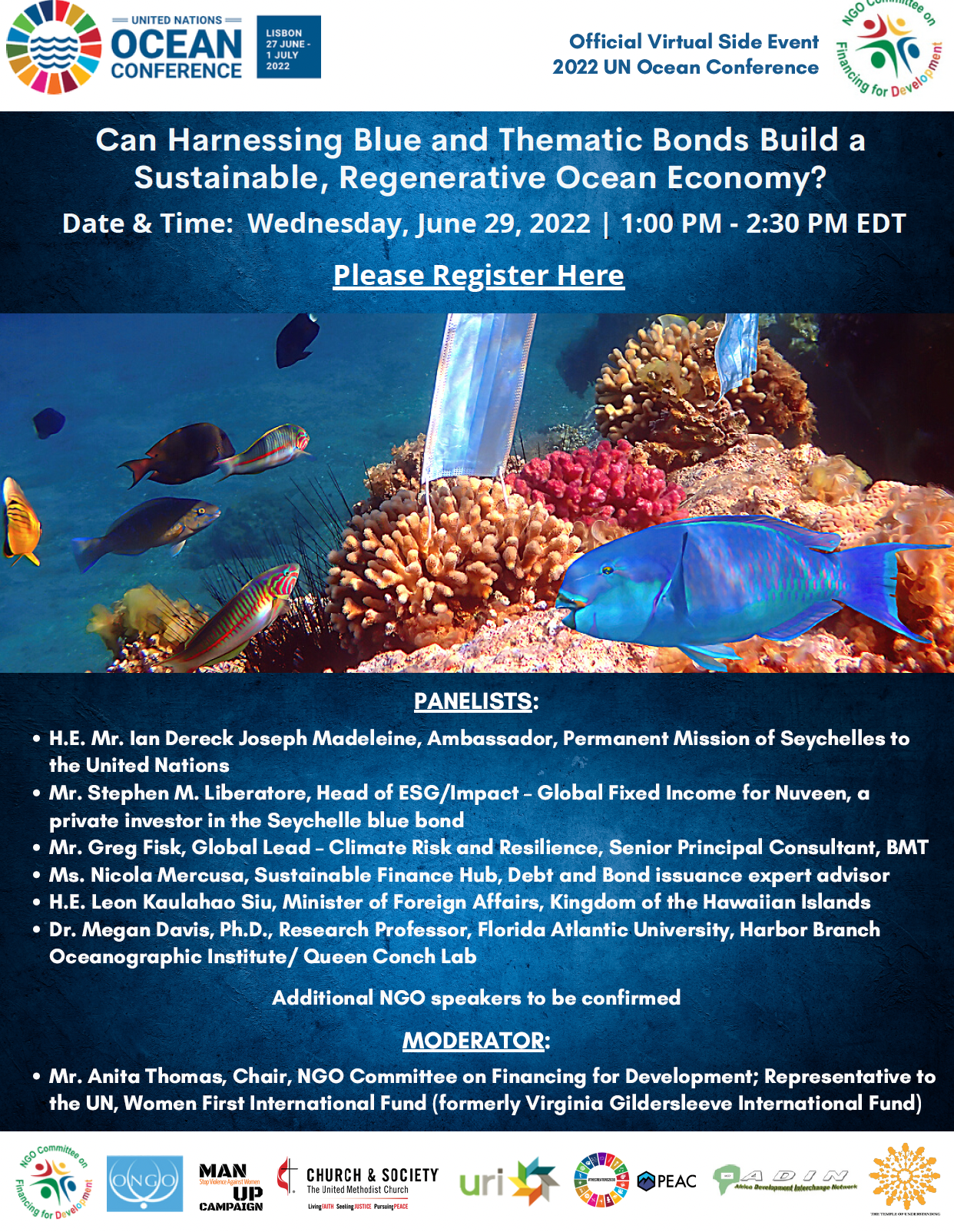 On July 29, 2022, the NGO Committee on Financing for Development) is holding a virtual panel discussion on blue bonds as an officially recognized side event of the United Nations 2022 Ocean Conference.
Supported by the General Board of Church and Society, the discourse around blue bonds in practice will meet with conversation on the upscaling of issuance and its global impact. Moderating the panel will be Anita Thomas, Chair, NGO Committee on Financing for Development; Representative to the UN, Women First International Fund (formerly Virginia Gildersleeve International Fund).
Register here for the virtual panel discussion on Blue Bonds as an officially recognized side event of the 2022 United Nations Ocean Conference
We, as United Methodists, continue to call on all persons to strive to care for Earth's entirety as God intended during creation.
"Let us recognize the responsibility of the church and its members to place a high priority on changes in economic, political, social and technological lifestyles to support a more ecologically equitable and sustainable world leading to a higher quality of life for all God's creation." (Social Principles ¶160)
According to the UN, global resources for creation care are tilted heavily toward larger, wealthier nations, with the impact of less funding accentuated in developing nations. Trade and tourism industries blanket the career sector of the major population in small or developing countries. Aquaculture and biotechnology's current growth cannot compete with the damages incurred by overfishing, pollution, climate change, and health shifts in coral reefs.
In 2016, the African Republic of Seychelles partnered with The Nature Conservancy to address financial debt and large-project funding. The World Bank issued its first blue bond to Seychelles two years later. Open access in all nations can now be found for projects in freshwater, coral reef development, clean energies, waterways, tourism, and monitoring overfishing.
More financial investors are considering the impact of blue bonds as the United Nations remain steadfast to Agenda 2030 Sustainable Development Goals SDG 14. The future of ocean economy relies not only in missions and outreach, but also in expanding awareness of all levels of opportunity for involvement.