January 18, 2023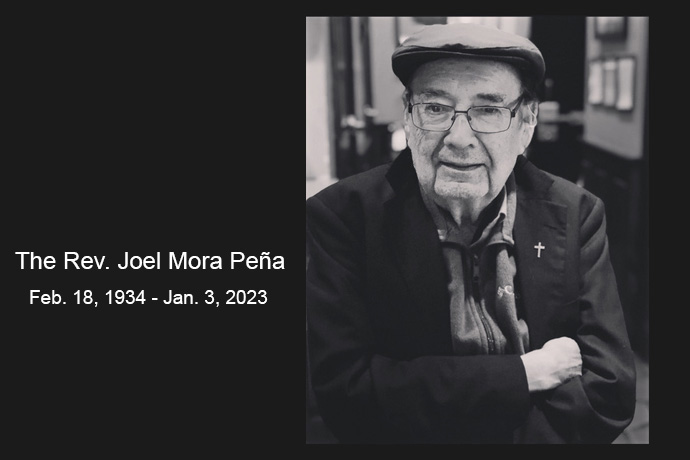 The Rev. Joel Mora Peña was a groundbreaking bishop in the Methodist Church of Mexico, serving from 1974 to 1982 and becoming the first to provide focused leadership in the northern area of his country.
Term limited as an episcopal leader in Mexico, and still in middle age, he immigrated to the United States and spent many years leading churches in what was then the Rio Grande Conference of The United Methodist Church.
That ministry trajectory was then — and remains — unique.
"Joel is the only one to serve as a bishop in Mexico and also serve as an elder in The United Methodist Church. I'm certain of that," said retired United Methodist Bishop Joel Martinez.
Mora Peña died Jan. 3 at age 88 in Corpus Christi, Texas.
Martinez, brother-in-law to Mora Peña, considers it notable that the death occurred in the 150thanniversary of the establishment of a Methodist mission in Mexico.
"Joel Mora Peña is a historic figure in the long journey of Methodism in his homeland, and through his coming to the States," Martinez said. "We were recipients of the abundant harvest that resulted from Methodism's fruitful planting in Mexico beginning in 1873."
Mora Peña was born Feb. 18, 1934, in Camargo, Mexico, to the Rev. Josue L. Mora (a Methodist Church of Mexico pastor) and Amada Peña. He spent his childhood in Torreón and Saltillo, in the Mexican state of Coahuila.
After studying theology at an Assemblies of God institute in Matamoras, Mexico, Mora Peña began to serve Methodist Church of Mexico congregations. For six years, he led El Mesias, a church in Monterrey.
Mora Peña spent four years as a superintendent for churches in the Mexican states of Nuevo Leon, Coahuila and Tamaulipas. then was elected bishop in 1974.
Before that year, the Methodist Church of Mexico had always had just one bishop. But leaders created a second episcopal area, and Mora Peña was the first to oversee the northern Mexico area.
Though it wasn't the whole country, it was still a vast territory, stretching across several states. And the number of Methodists in Mexico was on the rise.
The Rev. Edgar Avitia Legarda said Mora Peña as bishop had a key role in the founding of Seminario Metodista Juan Wesley (John Wesley Seminary) in Monterrey and worked to ease tensions between Mexican Methodists who were charismatic in their worship and those who were more traditional.
"He brought a lot of peace and reconciliation. That was very characteristic of him," said Avitia Legarda, who oversees the Global Mission Relationships unit of the United Methodist Board of Global Ministries.
When term limits took him out of the episcopacy, Mora Peña became international coordinator of the organization Explosive Evangelism, with responsibilities for Mexico, Central America and the Caribbean.
"I knew him to be a beloved pastor everywhere he served," Martinez said. "And he was a winsome preacher. People enjoyed his preaching very much."
Mora Peña is survived by his wife of 62 years, Hilda Mora Sanchez; their daughters Nilda Gomez, Miriam Reyes, Lilian Resendez and Lizeth Altamirano; their husbands and 11 grandchildren.
Other survivors include his sister, Raquel Mora Martinez, who is the wife of Bishop Martinez and a leading figure in Hispanic Methodist music, and brothers Arnoldo Mora Peña and the Rev. Josue Mora Peña.
The latter joined Bishop Martinez in presiding at Mora Peña's funeral, held Jan. 12 in Corpus Christi. Martinez preached.
"I focused on God's work of grace in Bishop Mora's ministry in Mexico and in the U.S.," he said. "When his granddaughter, Nilda Meliza Gomez, led us in singing 'Amazing Grace,' I thought, 'So he lived and so we sing. Gracias a Dios!'"