August 15, 2023
The massive losses from last week's Maui, Hawaii, wildfires include the beloved and historic Lahaina United Methodist Church sanctuary, as well as the homes of some congregation members.
Pastor John Crewe said he has been able to determine that no members were killed or injured, but many are displaced, as are he and his family.
Everyone, he said, is still coming to terms with the loss of life and property in Lahaina, a town of 13,000 on Maui's west coast.
"As the shock of witnessing the damage from the Lahaina fire begins to wear off, we will now endure waves of grief," Crewe wrote in a message posted to the church website.
The Maui wildfires claimed nearly 100 lives, and the search for bodies continues. About 2,200 structures were destroyed or damaged, and photos show the community of Lahaina — once the royal capital of Hawaii —was essentially wiped out on Aug. 8.
Reached by phone, Crewe said he has been encouraged by so many examples of Maui residents helping one another, and by expressions of concern and support from United Methodists near and far.
"I've got a backlog of emails to answer," he said.
Crewe has been tending to scattered church members, including finding and delivering insulin for one woman. He also has been visiting shelters to check on members of the church's homeless ministry.
On Aug. 13, he and a few others from Lahaina United Methodist attended worship at Ala Lani United Methodist Church, in the Maui community of Kahului.
Meanwhile, members of the church Filiai, Malamala, Oliveti and Tagaloa families gathered in a hotel room on Aug. 13 for worship led by lay leader Sione Malamala.
"We prayed for one another and praised God so many of our loved ones are safe," they posted on Facebook. "We mourned what has been lost but ultimately left with the comfort only God can bring, looking towards the future of our church."
The Rev. Tom Choi, the California-Pacific Conference's Hawaii District superintendent, verified the commitment to rebuild.
"Although the devastation to Lahaina UMC and the community is massive, the faith, commitment and spirit of the people will be able to overcome this tragedy, and they will ultimately rise from the ashes in triumph," he said by email.
The loss of the 101-year-old Lahaina United Methodist sanctuary is personal for some who live far from Hawaii. These are regular visitors to Maui who fell in love with the church building — and with the multicultural congregation.
"I am just devastated, as I know so many others are," said Jamie Harrington of McKinney, Texas, who first attended the church with her partner in 2015 and has been back often. "They will rebuild. They are a strong and resilient people in Maui. But I know it will never be the same. The history and tradition in those four walls is irreplaceable."
The Lahaina United Methodist Church dates to 1896, when a missionary from Japan, the Rev. Sotoshichi Kihara, arrived to minister to Japanese workers in the sugar cane and fruit plantations. Thus began a remarkable church narrative that would eventually include Native Hawaiians, Filipinos, Tongans, Anglos and others.
The sanctuary lost in last week's fire was built in 1922, on Lahaina's Front Street. Elevated by lava rock and piers, the building's exterior was in the craftsman bungalow style, but the interior had a New England church feel, with Japanese carvings and other elements interspersed throughout.
A restoration project had begun just last year, in honor of the building's 100th anniversary.
Crewe said that on the afternoon of Aug. 8, he was at the parsonage with his mother-in-law, Angelina Burgos, his visiting brother, Ryan Crewe, and his brother's longtime girlfriend, Carmen Roman, when strong winds brought the smell of smoke.
They got no official warning to leave, but neighbors sounded their own alarm of the urgency for getting out.
"Hot embers were flying everywhere, brought over by the wind," John Crewe said.
By the time he and his group had left in two cars — taking nothing but what they had on — fire had begun to menace a fence by the parsonage.
Crewe's group faced traffic delays getting out of town but reached a shelter, and by the next night were settled with his wife, Hyaline Crewe, in an apartment in the town of Wailuku, where she works as an ultrasound technician. The apartment building is being restored and their unit has no windows, but Crewe said it is comfortable and being provided by the owners at no cost.
Though the Lahaina United Methodist sanctuary was destroyed, along with an area used by a preschool, the parsonage survived.
Crewe credited Sione Pasikala, one of the property caretakers for the church. Unbeknownst to Crewe, Pasikala had stuck around as so many were leaving, and spent the night hosing down the parsonage and another residence — at times using well water.
"It really was an act of bravery," Crewe said. "It's a miracle he made it through."
Crewe said the sanctuary was insured. Access into Lahaina has been restricted since the fires, but Crewe hopes to get back in soon to see if any artifacts might be salvageable from the sanctuary. He has so far relied on others' reports and photos, and on satellite images.
He also is intent on getting the congregation back to a regular worship schedule, whenever and wherever that can happen. That some members are in shelters or other temporary housing around Maui is a challenge.
"Everybody is ready to have services as soon as we can," Crewe said.
As for Lahaina more broadly, Crewe is hoping that rebuilding will reflect local history and character — and not be just an opportunity for resort hotels.
"We need to make sure that spirit stays in the community and it doesn't just become another playground," he said.
Bishop Dottie Escobedo-Frank of the California-Pacific Conference has issued a pastoral letter about the Maui fires. The conference mobilized its disaster response task force and established a Lahaina Relief Fund.
The United Methodist Committee on Relief has authorized a $10,000 solidarity grant to the California-Pacific Conference for emergency relief.
"Recognizing the long road to recovery ahead in the aftermath of such destructive and deadly wildfires, we are accompanying the people of Hawaii in prayer and support," said Roland Fernandes, top executive of the United Methodist Board of Global Ministries.
Another $10,000 is on its way from the Louisiana Conference.
Choi and the Rev. Van Stinson, assistant to Louisiana Conference Bishop Dee Williamston, were roommates while in the doctor of ministry program at Wesley Theological Seminary.
After seeing news footage of the disaster in Maui, Stinson worked with Williamston to fast-track a grant for the Hawaii District to use in relief efforts.
"We here in Louisiana have been the recipients of so much help from so many throughout the years," Stinson said, referring to rebuilding after Gulf Coast hurricanes and flooding. "We like to try and respond when we're able. It's just another example of the beauty of the (United Methodist) connection."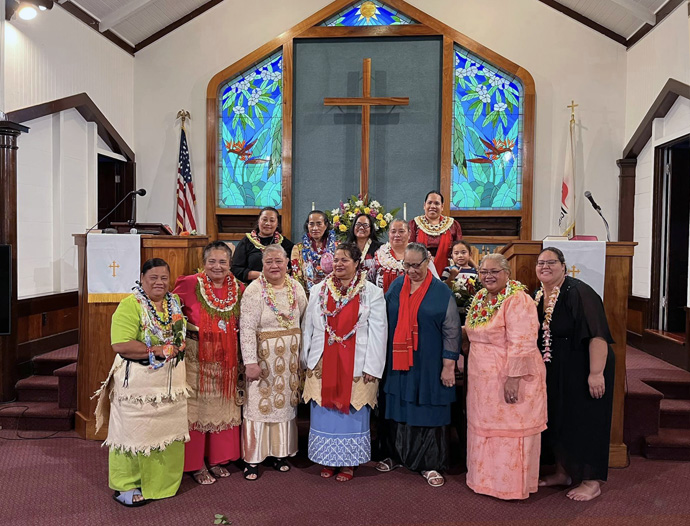 Lahaina United Methodist is a small congregation — just 75 members, with about that many people attending worship most Sundays, Crewe said.
But it is large in diversity, with English and Tongan services most Sundays, a Tongan choir and various Hawaiian elements in worship, including the prayer of Queen Liliuokalani.
The church's mission statement says, in part: "We are a rainbow of unique cultures and perspectives, striving to affirm and reflect our unity as sisters and brothers in Christ. … We seek to enable and maintain a place and atmosphere of Aloha — of holy hospitality, enriching those in our island community and guests from around the world through worship, learning and fellowship opportunities."
Many speak of the special feeling they've had in worship at Lahaina United Methodist.
"The services are intimate — you feel the presence of the Spirit there with the people," said G. David Smith of Rockwall, Texas.
He and his wife, Diane, were married at the church on Jan. 27, 1999, with the Rev. Piula Ala'ilima, pastor at the time, not only performing the ceremony but also playing the guitar and singing for them.
They've been back often and renewed their vows there in 2019.
Smith said he and his wife will be contributing financially to the church's rebuilding. They plan to be back on Maui in January, when he's hoping they can lend a hand if construction of a replacement sanctuary is underway.
"That will be our 25th anniversary. We will spend it giving back to the church that has given us so much."