Watch live Wednesday, October 12, 2022, on YouTube and Facebook Live at 12:10 p.m. EDT (9:10AM PDT | 6:10AM HST).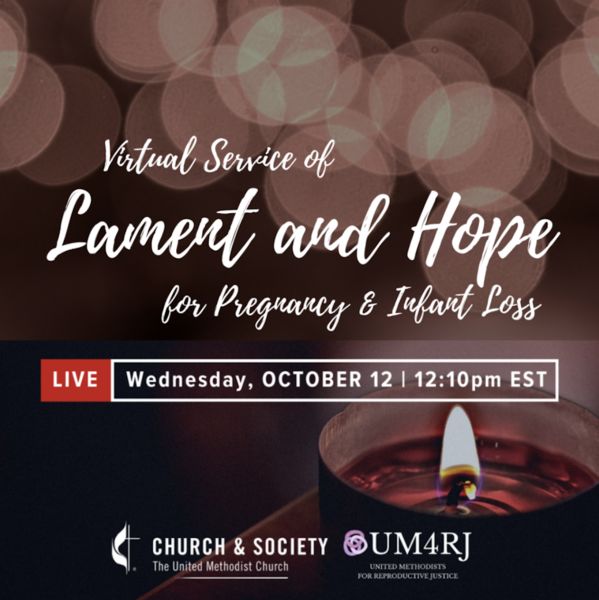 October is Pregnancy and Infant Loss Awareness month. 
While maternal and infant deaths have decreased worldwide, such deaths have significantly increased in the United States due to systemic and social inequities.
As United Methodists we affirm the sacred worth of all people and, "We commit our Church to continue to provide nurturing ministries to those who terminate a pregnancy, to those in the midst of a crisis pregnancy, and to those who give birth." (2016 Book of Discipline, Social Principles ¶161.L)
We invite you to join us virtually on Wednesday Oct. 12, 2022, at 12:10PM EDT (9:10AM PDT | 6:10AM HST) for a Service of Lament and Hope for Pregnancy and Infant Loss to honor and recognize those who have experienced such loss. This service will be hosted by The General Board of Church and Society in collaboration with United Methodist for Reproductive Justice with opening remarks from Rep. Nikema Williams of Georgia.
Quick Reference:
• October 12, 2022 (Wednesday)
• 12:10 p.m. Eastern
• Facebook Live
• Youtube Live
After the live broadcast, the worship service will be available as a recorded video.
We pray that you will join us for this sacred time of lament as well as of prayer for a world in which such loss is no longer our reality.