November 14, 2022
Today marks the start of the second week of COP27 – the annual United Nations climate conference. This two-week climate summit is an opportunity for countries and non-state delegates to ramp up collective actions to match the urgency of the climate crisis.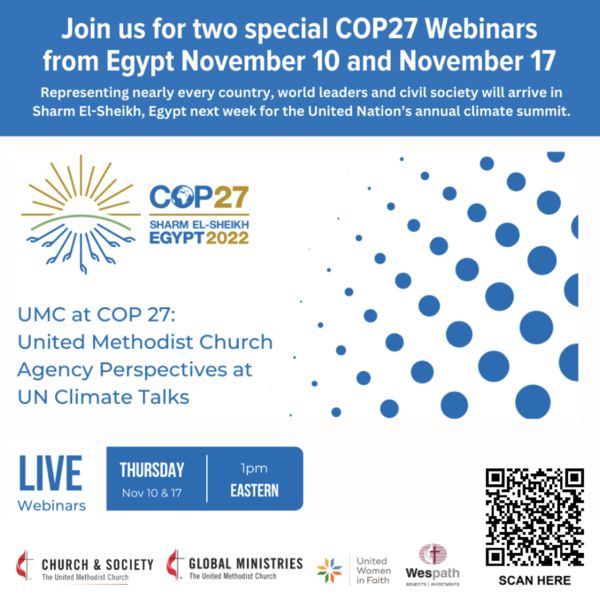 Six Key Takeaways from COP 27 Week 1, November 6 – 11
World leaders and non-state delegates from close to 200 countries in attendance at Sharm El Sheikh, Egypt
Heads of state, business leaders, religious delegates and social activists discuss equitable climate solutions and the political will to act
U.S. claims "renewed credibility" regarding the commitment to reducing carbon emissions thanks to passage of the Inflation Reduction Act
Frontline social advocates, indigenous communities and climate vulnerable countries testify to the unfolding climate issues and offer proposals for climate change resilience
Church and Society is pressing leaders to finance loss and damage from climate impacts in communities around the world
UMC interagency November 10 COP27 Webinar recorded on GBCS YouTube page. Don't forget to Register today for the November 17 UMC interagency Webinar, Week 2
United Methodists Climate Change Response
As people of faith, we understand the climate crisis as a moral crisis that demands a moral response – rooted in our values of stewardship and justice. Our United Methodist social teachings call us "to chart a new path rooted in economic and ecological justice" and to "advocate for a fair, ambitious, and binding international agreement to address climate change." Book of Resolutions #1035: Climate Change and the Church's Response
In the negotiating rooms, exhibit pavilions, and throughout the sprawling complex in Sharm El Sheikh, Egypt, communities of faith, frontline advocates, indigenous communities, and climate vulnerable countries are raising their voices as testimony to the unfolding climate catastrophe. And just as importantly, these leaders are casting a vision and offering concrete solutions for climate resilience.
Climate Debate, Solutions and Actions
Just and equitable climate solutions are on full display throughout the COP. What is less evident is whether world leaders have the political will to enact them. As heads of state make public speeches full of lofty rhetoric, their teams are too often undermining progress in private negotiating rooms on key issues of mitigation (reducing carbon emissions) and providing life-saving climate financing for impacted communities.
In separate meetings with the State Department negotiating team and the United States Congressional delegation, I heard time and again how the US is coming into this COP with renewed credibility.
While that may be true regarding the US's commitment to reducing emissions thanks to passage of the Inflation Reduction Act, the US has a long way to go to rebuild trust on climate finance. Its intransigence on the issue of loss and damage finance continues to threaten a successful outcome here at COP27.
Climate Financing for Loss and Damage Justice
For Church and Society – and for much of civil society gathered here – our advocacy is focused on providing finances for loss and damage. The idea of "Loss and damage" refers to irreparable economic and non-economic climate impacts occurring in communities around the world. As United Methodists, we believe this is a matter of justice. The United States and other wealthy nations, who are the largest historic emitters of climate impacting emissions, must pay their fair share to support communities that are not the cause of the problem, but devastated by the consequences.
The interplay between international negotiations and domestic politics are key. No government can pledge internationally what it cannot deliver domestically. While we are in Sharm El Sheik pushing for climate finance as a matter of climate justice, we are also pressing the U.S. Congress to increase international climate funding in this year's budget. Now is the time to raise our voices calling for robust funding for critical international priorities. Tell your Senator to fund the U.S. fair share for Climate Finance now!