June 27, 2023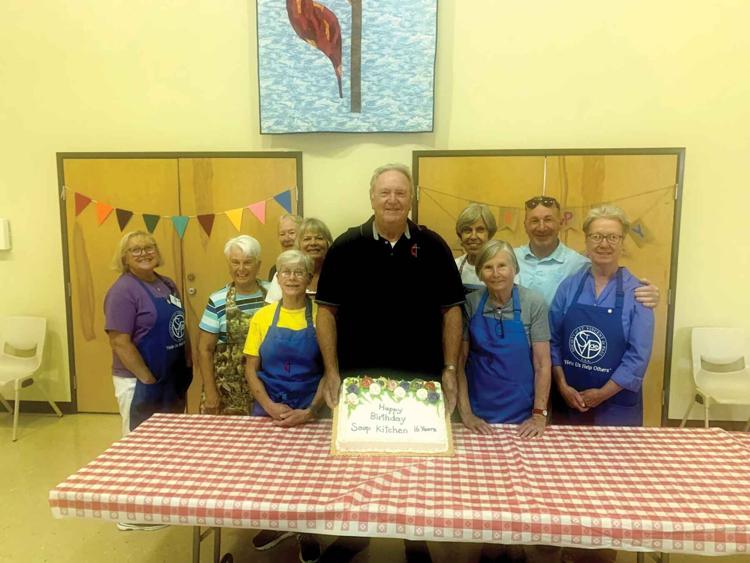 The Soup Kitchen operated by the Bishop United Methodist Church on Friday celebrated 16 years of providing hot meals to those in need throughout the area.
Soup Kitchen Director John Camphouse, who help start the service in 2007, said the need has never been greater and the numbers of those seeking a nutritious meal three times a week continues to grow.
"I wish it wasn't necessary," Camphouse said on Friday. "For some people, these are the only meals they get for the day."
The "Join Us for Lunch" Soup Kitchen provided its first meals on June 7, 2007, and initially served between 8 and 15 people two days a week.
The program grew and a third day was subsequently added.
Camphouse said the Soup Kitchen paused for COVID, like many services, but has been in great demand since.
When the Soup Kitchen paused operations for COVID, some 45 -75 guests on average were being served each day inside the church's Methodist Center building.
Camphouse reiterated that the need has never subsided though support for the service also continues.
He said the program wouldn't be successful without volunteer support from local groups and organizations, including both Bishop Rotary Clubs, the Bishop Lions, Our Lady Of Perpetual Help Catholic Church, Church of the Nazarene, the Margaret Pillsbury Foundation of Bishop, the Donald M. Slager Sunset Foundation of Bishop and several individual volunteers who continue to assist week after week once or twice a week.
The Soup Kitchen currently offers a free lunch, at noon on Monday, Wednesday and Friday, with donations accepted but not required. The lunches are held at the church, 205 N. Fowler, Bishop.
***
In addition to the story by The Inyo Register, Bishop's UMC's Lead Pastor, Rev. Kate Hunter, commented:
"The success of the soup kitchen (SK) has opened opportunities for other outreach as well. Needing to manage the SK food waste has led us to a new program just started this year. Using worms, we have begun a composting program that has now expanded to provide vermicast for community gardens.  
In conjunction with the Community Gardeners (that operates under the church's 501c3) and the City of Bishop, we have received grants to expand the community gardens to address the high cost of fresh produce and provide the SK with local veggies for our community.  
It is nice to have a full-cycle creation care system that links church, civic, and local government to care for our earth and all who call this home."
If you would like more information about Bishop UMC's services and opportunities to contribute to the Soup Kitchen, please contact the church office at 760.872.7701 or office@bishopumc.org.