The official day set to celebrate Native American Ministries Sunday 2023 is April 23, 2023. All are encouraged to celebrate this Sunday on any Sunday throughout the year.
What is Native American Ministries Sunday?
Native American Ministries Sunday serves to remind United Methodists of the gifts and contributions made by Native Americans to our society. A gap in knowledge exists in The United Methodist Church, in congregations and other United Methodist entities, relative to comprehending concepts of Native American life, cultures, languages, spirit, values, contemporary issues, and such. We affirm the sacredness of American Indian people, their languages, cultures, and gifts to the church and the world.
An offering is taken on this Special Sunday to support vital ministries and churches in the Native American communities and allow The United Methodist Church to partner with existing native ministries to develop new programs on behalf of Native Americans.
Half of the funds collected on this Special Sunday remain in the Annual Conference to develop and strengthen Native American ministries in the conferences. To assist in developing these programs, each conference has a Committee on Native American Ministries (CONAM). These committees seek to advocate for ministry with and by Native Americans to share the diverse culture, history and traditions of Native peoples. The committees determine the distribution of the Native American Ministries Sunday offering, coordinate the promotion of that Special Sunday, and monitor Native American ministries within the Annual Conference.
Twenty-five percent of the donations received fund scholarships designated scholarships for Native Americans attending United Methodist schools of theology. A serious shortage exists of American Indian pastors and trained professionals and these scholarships provide development, implementation, and assessment of a higher education recruitment/retention for Native Americans.
The final twenty-five percent of the donations collected are used to create beneficial programs. These funds allow the UMC to partners with existing native ministries to develop new programs on behalf of Native Americans. Some of those efforts include mentoring programs, peer support systems, funding for economic development projects, and restoring traditional and historic ways that bring forth new leaders for Native American communities.
The four areas of focus the Native American Comprehensive Plan (NACP) will emphasize in the 2021-2024 quadrennium are as follows:
• Preserving Indigenous Language
• Understanding Indigenous Spirituality
• Addressing the epidemic of violence against Indigenous women and children
• Seeking climate justice globally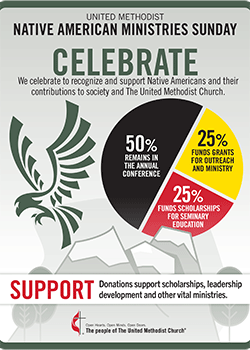 Pastor Kit resources are also available in Korean and Spanish.
View the resources via the button below…
Want to learn about all of our United Methodist Special Sundays? Take a look here or at UMCGiving.